LEES Academic Team #EAST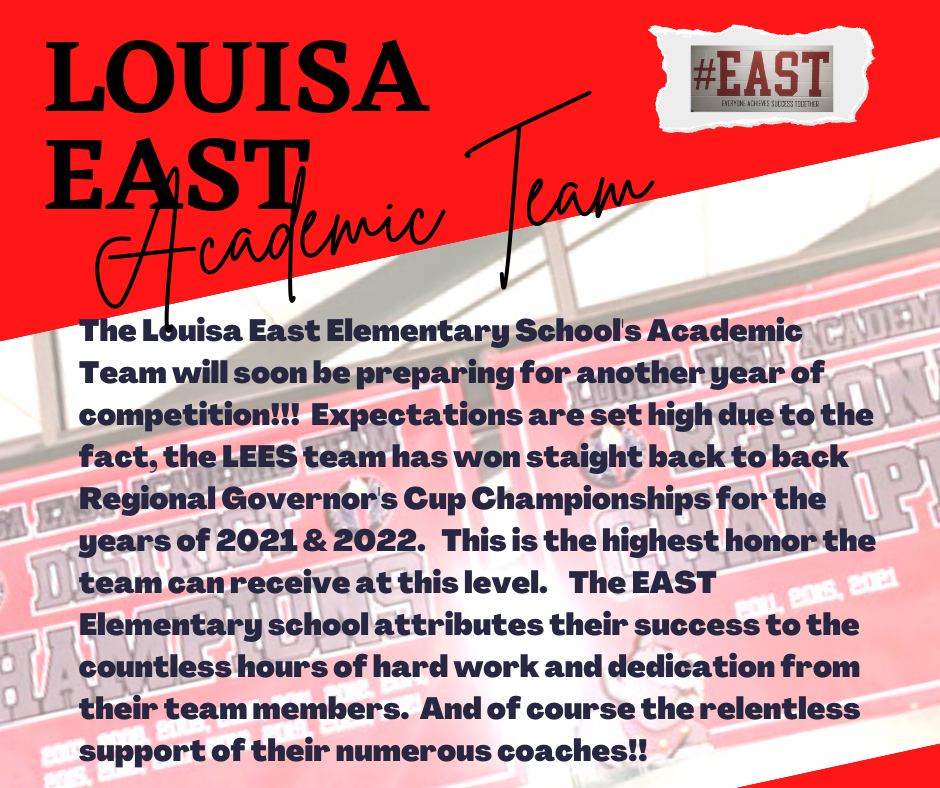 NEW LEES TEACHER'S AND STAFF Summer Brown is the new Assistant Principal at LEES. This is her 14th year in education, and those 14 years have been at the EAST. Prior to becoming the assistant principal, she taught third and fifth grade English Language Arts. Ms. Brown says, "It is an honor to serve in the position of assistant principal at Louisa East. I am extremely grateful. I love having the opportunity to interact daily with all the students at our school." Arlena Evans is the new front office secretary at LEES. She is excited to welcome students, parents, and staff into our school. Allyson Bailey is a fifth-grade math teacher. Mrs. Bailey has been teaching for almost two years in Lawrence County Schools. This is her first year at Louisa East. She feels it is very sweet to come back to the school she grew up in and work with both new and familiar faces. Fifth grade is a new adjustment for her, but she can't wait to see what this year brings to our school. Ms. Baily said, "I absolutely love my job!" Siska Pack is a speech/language instructional assistant. She is originally from Indonesia. She first joined Lawrence County Schools as a substitute teacher in 2017. She became a full-time employee, focusing on Speech/Language during the last school year. She is currently enrolled at Ashland Community & Technical College. Ms. Pack said, "I enjoy working firsthand with young children, Pre-K through 5th grade. I really enjoy working with my LC school family because I feel accepted and welcome." Jeremy Block is currently a fifth-grade special education teacher. This is Mr. Block's second year of teaching. He previously taught at Fallsburg Elementary before transferring to Louisa East. Mr. Block said, "I enjoy working with students and assisting them in gaining knowledge."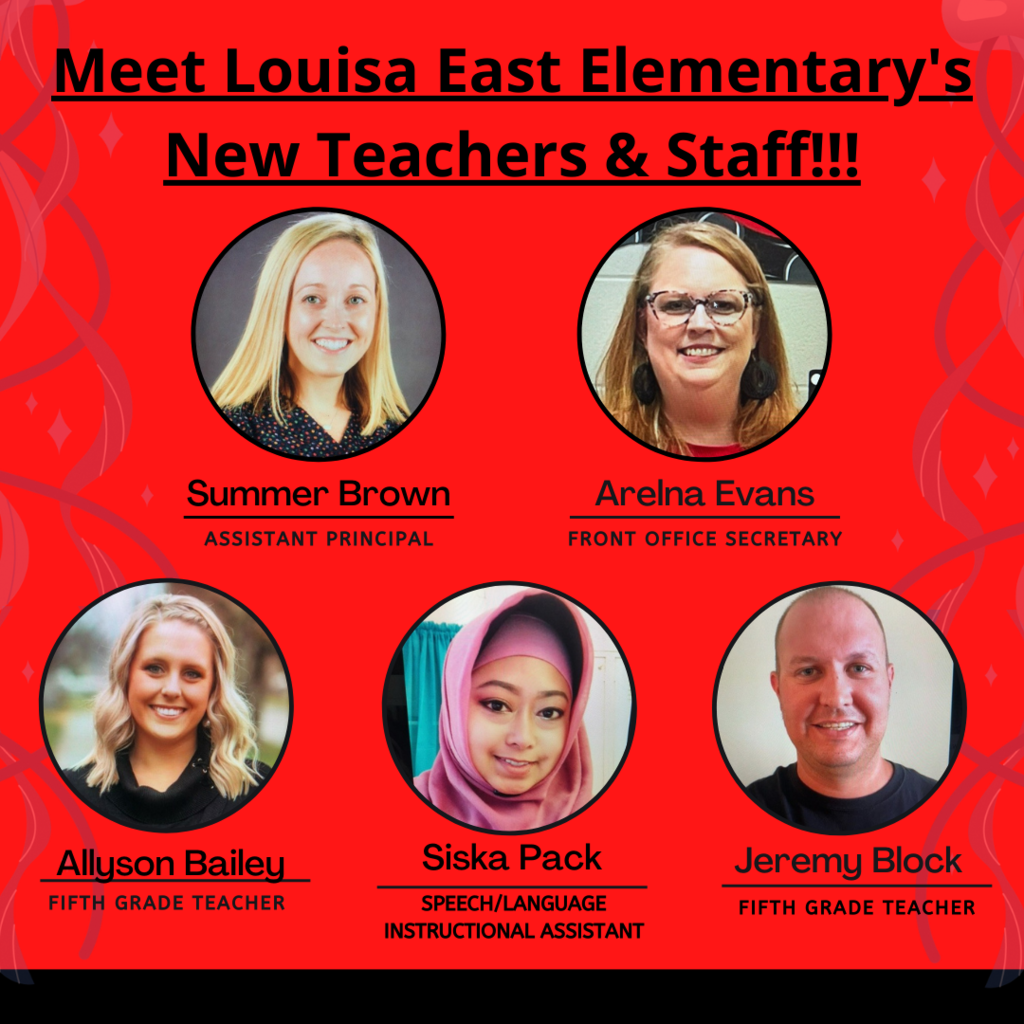 NEW LWES TEACHERS AND STAFF Ms. Sheree Hay is a first-year kindergarten teacher and a past graduate of Lawrence County Schools. She appreciates the help and welcoming environment from the staff at LWES. Ms. Hay said, "I love my kindergarten class this year. They are the best kids!" Ms. Amy Berry is a kindergarten teacher. She has several years of teaching experience. She currently resides in Boyd County. Ms. Rachel Pigg is a first-year preschool teacher. She graduated from Morehead University in 2011 with her bachelor's degree in education. She is currently pursuing a master's degree in IECE at the University of Cumberland. She really enjoys working with the preschool team at LWES. She said, "They have been very welcoming and helpful as I prepare for this busy year of teaching. I am excited and ready for a great year in Preschool!" April Sammons is a first-grade teacher at LWES. She recently transferred from Fallsburg Elementary. She has 19 years of teaching experience, with 17 of those years being at Fallsburg. She taught second grade in the past and is now teaching first grade. She explains that it was a transition from second to first grade. Ms. Sammons said, "Teaching is my passion!" Jennifer Lycan is an instructional assistant for the preschool. She has worked as a substitute teacher for 11 years. She took a break from working inside the schools, when COVID forced school closings. She loves working with the students, watching them grow up, and graduate. She is also an artist who loves to create beautiful pieces. Rennesa Pigmon is a new cook/baker for Louisa West. She has had many years of experience previously working at the Louisa Middle School. Rocky Perry is new to LWES. He is a custodian, who recently transferred from the high school. He has also worked as a bus monitor for two and half years. His past work experience includes 20+ years as a custodian at Chesapeake Elementary School in Ohio. Mr. Perry says, "I love working at LWES!"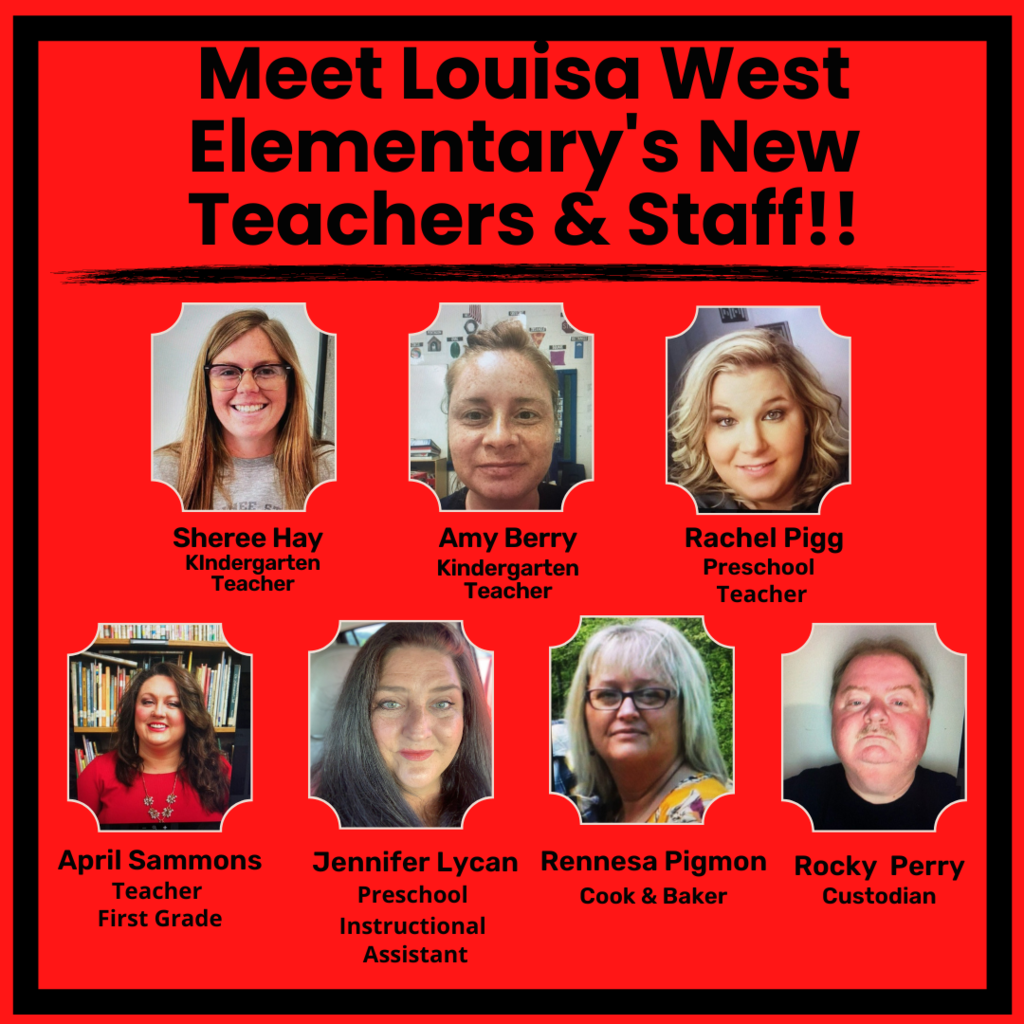 Mary Whitt is teaching 2nd grade at FES. She comes to FES from Pike county's, Belfry Elementary School, where she taught for 4 years. Ms. Whitt enjoys the smaller class sizes, as she can provide more instruction time to each student. She loves the small community and family feel to the school. She is planning to complete her master's degree in counseling. Karen Sturgill is teaching 2nd grade at FES. She has taught a total of 21 years, with 12 years teaching at Blaine Elementary School. Ms. Sturgill discussed the amount of support and kind environment she has encountered transitioning into FES. She also enjoys the small group instruction that she can provide to students. Stephanie Trimble is teaching kindergarten at FES. Ms. Trimble is a first-year teacher, who currently resides in Johnson County, KY. She said it has always been her dream to teach a kindergarten class. The goal for her classroom is to provide an environment that provokes excitement about learning. Jannelle Brojakowski is a 4th grade teacher at FES, with 18 years of teaching experience. Ms. Brojakowski comes from Hershey, PA. Their family decided to settle in the Fallsburg community because of the welcoming spirit and simple lifestyle. She loves teaching with higher level technology. She plans to try an eventually gain funding to access more innovative technology for Fallsburg students. Kayla Wilks is a special education teacher at FES. Ms. Wilks previously taught at LEES. She enjoys the small class numbers, as she can provide more instruction time per student. She said, "The greatest moment is when you can see the light bulb come on for your student." She plans to continue following her passion of teaching to make a difference in her students' lives. Danielle Ferguson is a 6th, 7th, and 8th grade English/Language Arts teacher at Fallsburg Middle. Ms. Ferguson moved from West Virginia and enjoys the feel of teaching in a small community. She is motivated to make a difference in the lives of her students. Misty Diamond is new FES Cafeteria Manager. Ms. Diamond has had foodservice experience throughout the LC district. She also has past work experience as the former Deputy Clerk for the Lawrence County Clerks Office.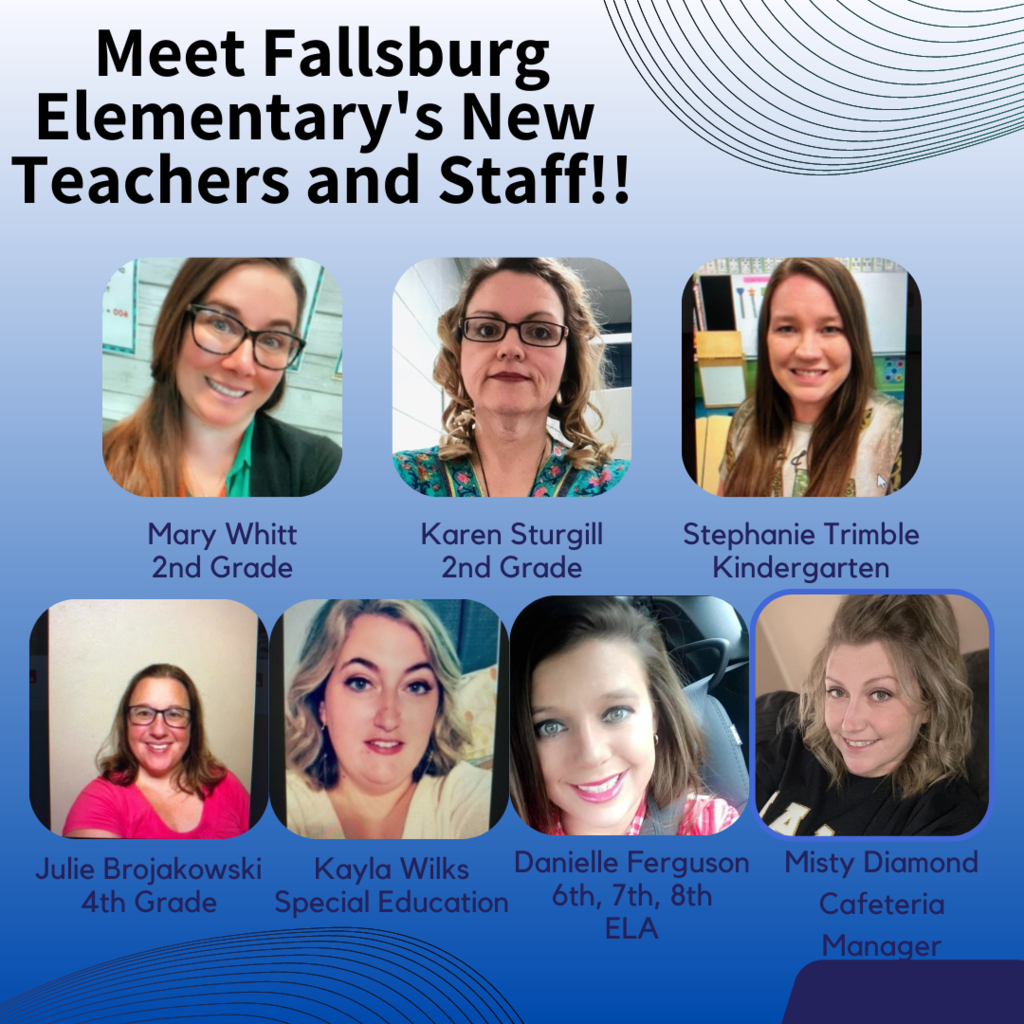 Mr. Jerry Whelan is the newly hired science teacher at Blaine Elementary School. However, Mr. Whelan is no stranger to Lawrence County Schools. His past work history includes working in Louisa Middle School, as a science teacher. He was also the Assistant Principal of Lawrence County High School from 2006- 2011. His career of teaching has been intertwined with of that of dedicated military service. He is a Special Forces veteran, with two tours to Afghanistan, and one tour to Lithuania. His lengthy military career ended with retirement in March of 2022. Mr. Whelan is enthusiastic on his new position. He stated, "I feel that my life calling is teaching." Ms. Tina Bevins is the new Family Resource & Youth Service Coordinator for Blaine Elementary School. Ms. Bevins has experience working as a Lawrence County Schools district wide full-time substitute teacher. Ms. Jennifer Ferguson first year is a first year Special Education MSD teacher at Blaine Elementary School. Ms. Ferguson has worked at BES in various capacities over a span of nine years. Her previous titles have included cheer/dance coach, instructional aide, and as a substitute teacher. Ms. Ferguson strives to identify her student's interests, so she can positively motivate teaching processes and techniques. Ms. Ferguson stated she is grateful for the support she has received from her principal, colleagues, and district resource teachers.

The motto of Blaine Elementary School is "Be the sunshine." So, when the school had a need to replace a dilapidated wall map, the idea was formed to paint the mural in a hallway. Ms. Reynolds saw a post online that provided the wording they chose for the center of the mural. However, she decided to change the end, sealing it with the school's motto. The grade level students worked to paint a portion of the mural after the nature scene had been chalked/outlined on the wall. BES always encourages their students to be the sunshine or bright light in someone else's life. The mural is a daily reminder to our school community to lift each other up!



Over the past week, the LC family has sent several gift cards, water, cleaning supplies, tools, $500 of detergent, and more to flood victims to our south. From our SEKY friends: Thank you to all who have contributed and to all of those have prayed. We will look for more ways to help! Thank you for being…ALL IN!

Reminder: All cleaning supplies, water, and gift cards should be delivered to your schools tomorrow by 10 AM. We will transport all items to distribution sites tomorrow evening for flood victims in SEKY. As always, thank you for being…#AllinLC

As many of you know, so many of our SE KY neighbors have lost their vehicles, their homes, and most importantly, their friends and family. As Lawrence Countians often do, we want to help those in their time of need. Lawrence County Schools will be gathering cleaning supplies and water to help flood victims in SE KY. Buckets, shovels, and rakes are also appreciated. If you would like to help, please bring supplies to your student's school by Friday at 10 AM. $25 gift cards will also be accepted. As always, thank you for being ALL IN!

LC Schools will be gathering cleaning supplies and water to help flood victims for the families in SE KY. If you would like to help, please bring supplies to your student's school Monday through Friday of next week. $25 gift cards will also be accepted. #AllinLC

Apply today at Lawrence.k12.ky.us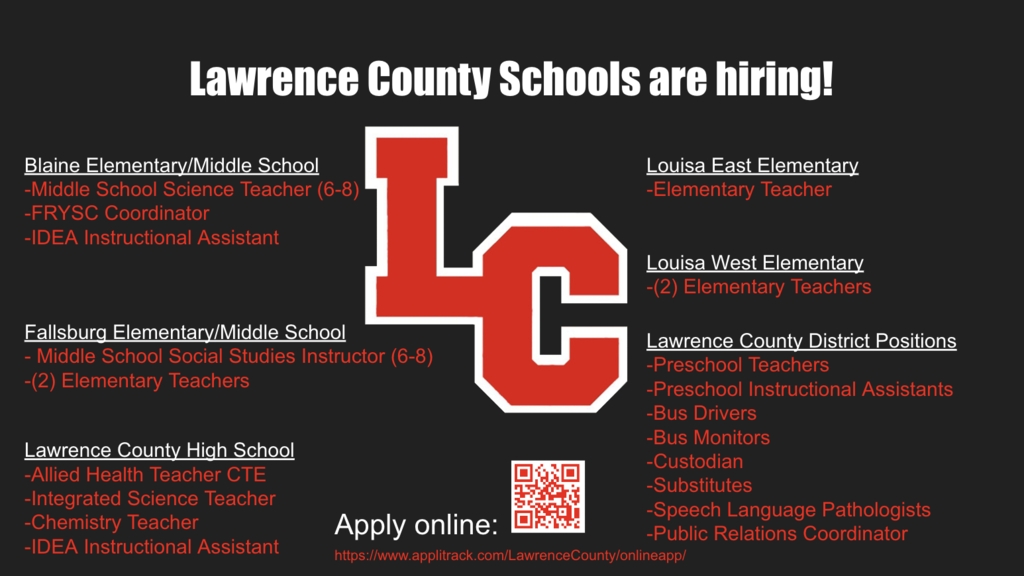 Community Eligibility Provision | Food and Nutrition Service The Community Eligibility Provision (CEP) is a non-pricing meal service option for schools and school districts in low-income areas. CEP allows the nation's highest poverty schools and districts to serve breakfast and lunch at no cost to all enrolled students without collecting household applications.
www.fns.usda.gov
https://www.fns.usda.gov/cn/community-eligibility-provision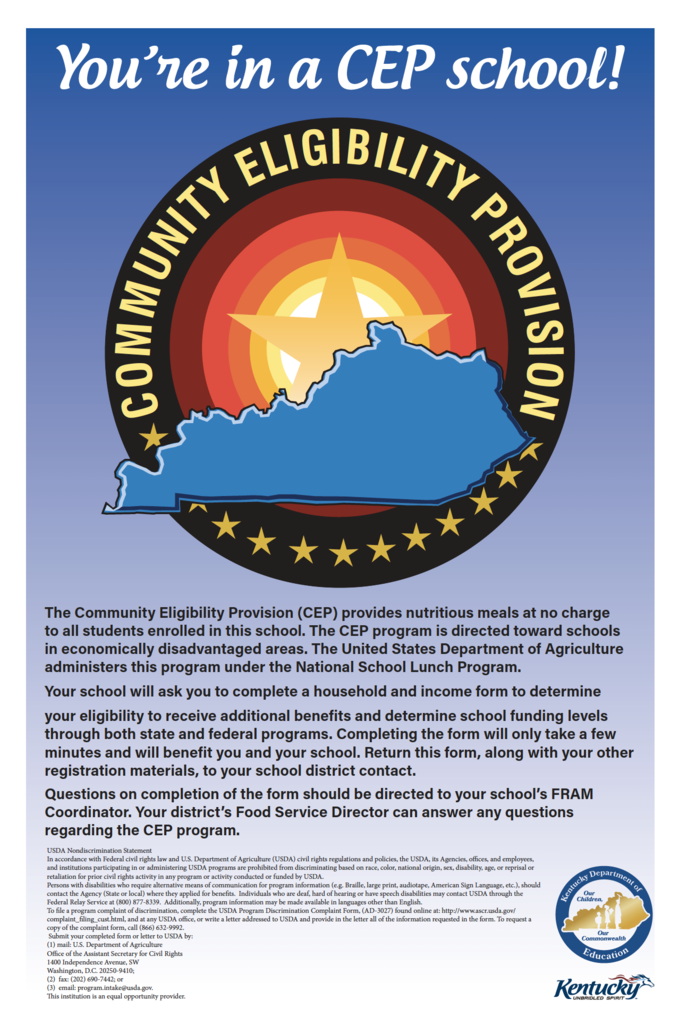 Press Media Release Lawrence Co Food Service will be participating in the National School Lunch Program and the School Breakfast Program. As part of this program, Blaine Elementary School, Fallsburg Elementary School, Louisa West Elementary School, Louisa East Elementary School, Louisa Middle School, Lawrence County High School will offer healthy meals every school day at NO COST to the students due to the implementation of the Community Eligibility Provision for school year . For more information, you may call Kyla Farley at 606-638-9671 or e-mail at
kyla.farley@lawrence.kyschools.us
.
http://education.ky.gov/federal/SCN/Pages/USDANondiscriminationStatement.aspx
USDA Nondiscrimination Statement In accordance with federal civil rights law and U.S. Department of Agriculture (USDA) civil rights regulations and policies, this institution is prohibited from discriminating on the basis of race, color, national origin, sex (including gender identity and sexual orientation), disability, age, or reprisal or retaliation for prior civil rights activity. Program information may be made available in languages other than English. Persons with disabilities who require alternative means of communication to obtain program information (e.g., Braille, large print, audiotape, American Sign Language), should contact the responsible state or local agency that administers the program or USDA's TARGET Center at (202) 720-2600 (voice and TTY) or contact USDA through the Federal Relay Service at (800) 877-8339. To file a program discrimination complaint, a Complainant should complete the USDA Program Discrimination Complaint Online Form (AD-3027) found online at How to file a Complaint, from any USDA office, by calling (866) 632-9992, or by writing a letter addressed to USDA. The letter must contain the complainant's name, address, telephone number, and a written description of the alleged discriminatory action in sufficient detail to inform the Assistant Secretary for Civil Rights (ASCR) about the nature and date of an alleged civil rights violation. The completed AD-3027 form or letter must be submitted to USDA by: Submit your completed form or letter to USDA by: (1) mail: U.S. Department of Agriculture Office of the Assistant Secretary for Civil Rights 1400 Independence Avenue, SW Washington, D.C. 20250-9410; (2) fax: (833) 256-1665 or (202) 690-7442; or (3) email:
program.intake@usda.gov
. This institution is an equal opportunity provider.

Have you completed your annual Online Registration for the 22-23 school year? OLR replaces most beginning of the year forms and provides schools with emergency contact information for your child. We need all Wildcats, Dragons, and Bulldogs to register for this school year!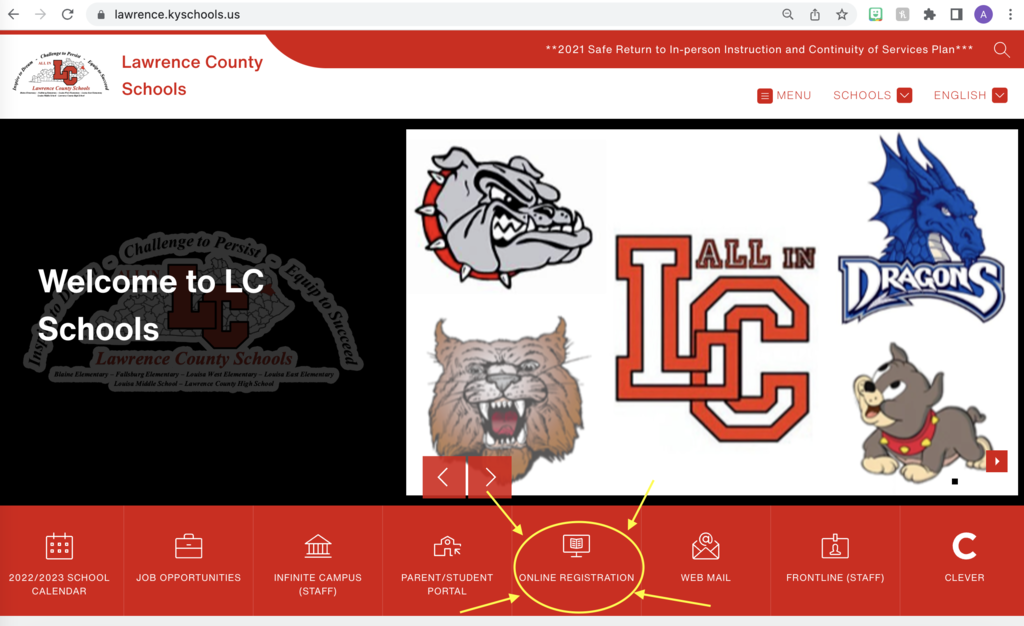 Lawrence County Schools is very excited to announce that we have allocated $125,000 of ARP ESSER funding to help offset the cost of school supplies for students for the 2022-2023 school year. Please click below for more information.
https://5il.co/1emqi
#AllinLC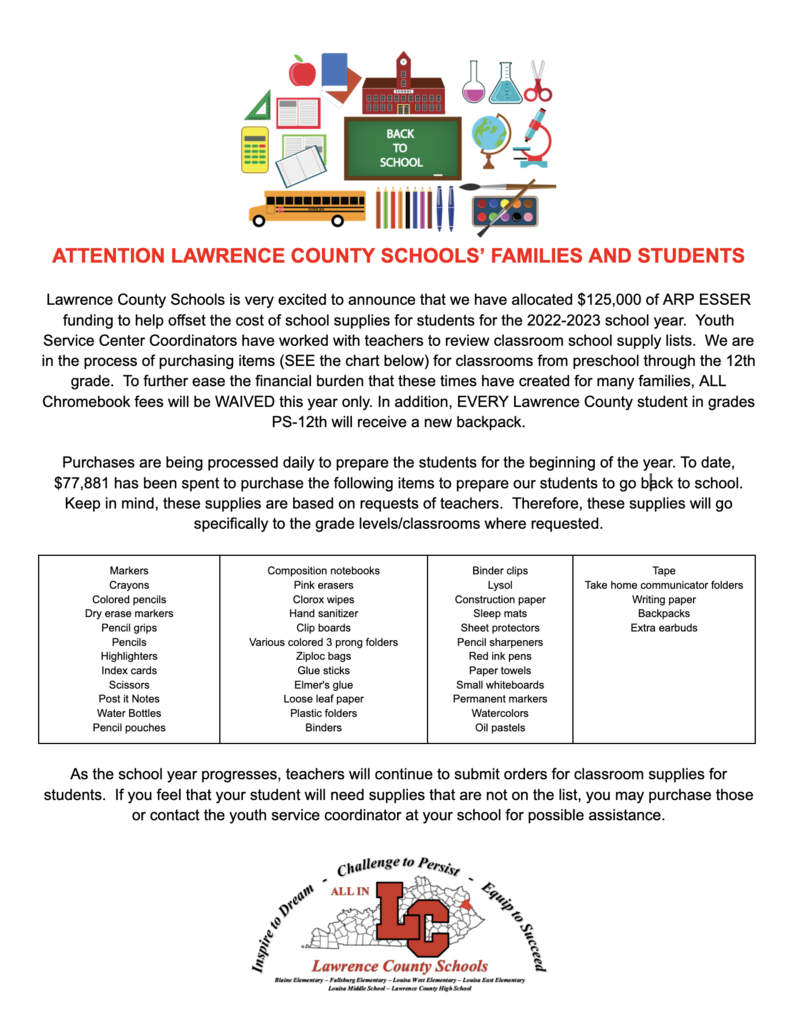 We have two different dates FREE sports physicals will be offered this summer REMINDER: anyone participating in HS athletics for the 2022-23 school year MUST have an updated physical for the upcoming school year. There will be printed physical forms available for pickup in the high school office. Dates: Thursday- July 7, 2022 Location: LCHS parking lot (mobile unit) 9:00am- 2:00 pm Homeplace Clinic- provider Saturday July 16, 2022 Location: Dr Spencer Harris office (adjacent to 3 rivers medical center) 8:00am- 11:00am Dr Harris- provider


To all LC Schools Parents. Please take a moment to fill out the Annual Title 1 Parent Engagement Survey:
https://forms.gle/5mr8g1famdJbqmVf8
Use this link or go to Facebook or the District Website