Lawrence County Schools Job Opportunities

2021 Reopening Plans for LC Schools. Highlights: * CDC's federal guidance REQUIRES students to wear masks while on school buses. *Students and staff have the OPTION of wearing masks in school settings but not required. More info:
https://5il.co/vqkc
#AllinLC


The Aspire Conservatory for Fine and Performing Arts will host a week of summer camp July 19-23 at the Louisa United Methodist Church. These camps are available for students from 6 to 14 years old. For more information, visit:
https://www.aspireconservatory.com/

Recently, Governor Beshear rescinded almost all COVID-19 restrictions for the state of Kentucky. As a result, the Kentucky Department of Education no longer requires students to wear masks, observe social distancing, etc. in school settings. While the staff of Lawrence County Schools will continue our heightened efforts for cleaning and sanitation, we will be returning to a more "normal" setting in August. Even though we want to see all students back in the classroom in the fall, we do understand that the virtual setting may be the best option for some students. With this in mind, we will be offering a virtual academy for the upcoming school year. The 2021-2022 Virtual Academy for Grades 6-12 will be very similar to the "Option 3" that we offered last year, but the Kentucky Department of Education has more requirements for Grades K-5. This will only be offered if we have enough interest. Also, there is a cap size for grade levels: *K-5 - 30 students *6-8 - 20 students *9-12 - 30 students If you are interested in your student attending the Lawrence County Virtual Academy, please complete the survey by clicking on the link below:
https://docs.google.com/forms/d/e/1FAIpQLSe7RsLdCCX2YyrCA7u6OvAO6ajX0zl4a_ME2c7zZaq6y75Yeg/viewform
You only have to complete the survey if you want your student to attend virtually next year. Deadline to register: Wednesday, July 14th Thank you for being ALL IN!

For all families, a toy distribution, hosted by the Lawrence County Family Resource and Youth Service Center Directors, will be held this Thursday, June 24 from 10:00 am- 2:00 pm at Lawrence County High School, 100 Bulldog Lane, Louisa, KY 41230. Each child will receive 2-3 toys each, books and snacks. This is free and NOT based on income. Note: Child or children must be present to receive toys, books and snacks. We hope to see you there.
Louisa West Elementary School Parent SBDM Election Procedures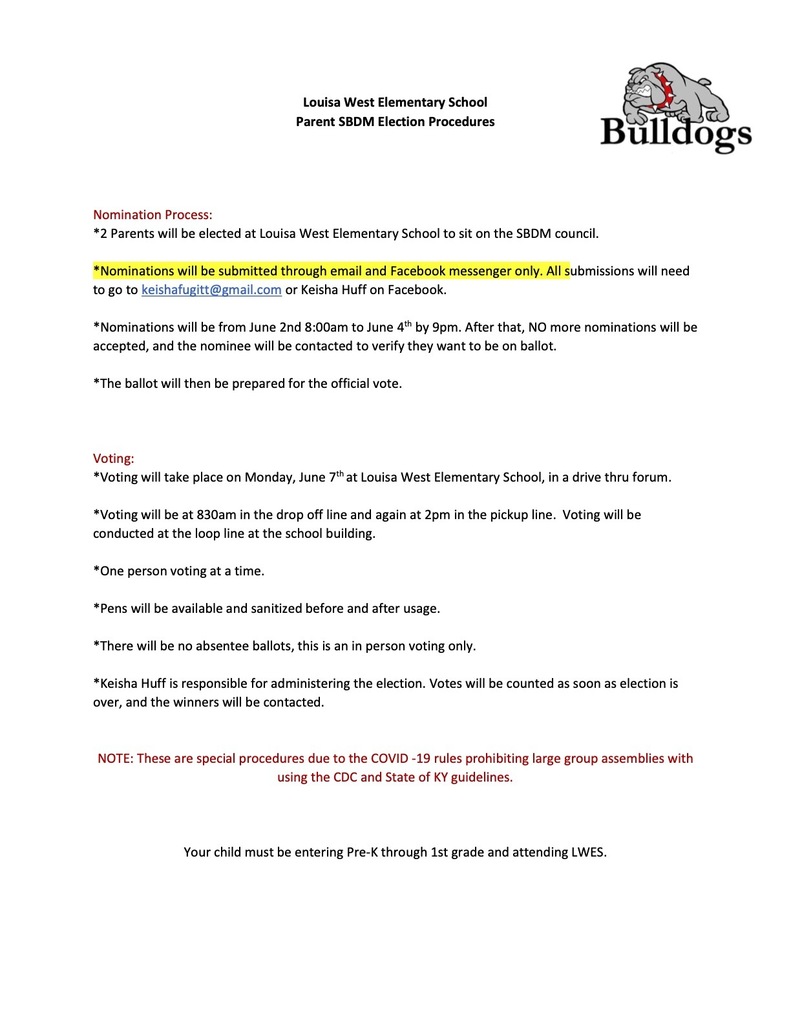 The Lawrence Co. Health Dept. now provides the Pfizer COVID-19 vaccination for anyone 12 years old and up. More info: 🗓 Mondays and Thursdays ⏰ 8:30 AM to 2:30 PM 📍 Lawrence County Health Department 💻 Appointments:
https://lawrencecountyhealthdepartment.com


The Lawrence County Food Service team will be serving food at all school locations from 10 AM to 12 PM during summer school (until June 10th). Parents and/or guardians may come to the schools to pick up food even if their child does not attend summer school. #AllinLC

Lawrence County Schools welcomes Mrs. Katie Webb as our next Chief Academic Officer. Article:
https://5il.co/szy3

For more information on summer tennis or anything LC tennis, contact Joey McClanahan 6069396036


KY schools have not received specific masking guidance as of 9 PM tonight. LC Schools will observe our established masking guidance tomorrow for all students and staff. I will release new information as soon as we are notified. Hoping to end mask wearing soon. 😷 #AllinLC

We are working on a plan with the LC Health Department to provide Pfizer COVID-19 vaccinations for students that are 12 years old and up. Be on the lookout for more information next week, so you may schedule your student for a vaccination, if you are interested. #AllinLC

This message is for students who have submitted applications for the holdback year related to SB128 ONLY. If your student has hopes of competing at the Division 1 level after he/she graduates from high school, there is a strong possibility that staying back in school during their high school years COULD impact their eligibility at the college level. If your high school student-athlete has hopes of playing at the Division 1 level and your student plans to "hold back" next year, you should call the NCAA Customer Service line at 1-877-262-1492 to ask about his/her eligibility. If your students has been contacted by a Division 1 coach or representative already, you should ask what impact would "holding back" during the high school years would have on your student's eligibility, also. You SHOULD NOT ask local school officials or high school coaches about this. All answers concerning NCAA eligibility should come from NCAA representatives or from NCAA-affiliated coaches. We have been receiving NEW INFORMATION about potential issues in the past two days. We have been advised to direct all parents/guardians to the NCAA Customer Service for questions concerning potential D1 athletes who opt to "hold back" during their high school years. ☎️ 1-877-262-1492 - NCAA Customer Service

This message is for students who have submitted applications for the holdback year related to SB128 ONLY. If your student has hopes of competing at the Division 1 level after he/she graduates from high school, there is a strong possibility that staying back in school during their high school years COULD impact their eligibility at the college level. If your high school student-athlete has hopes of playing at the Division 1 level and your student plans to "hold back" next year, you should call the NCAA Customer Service line at 1-877-262-1492 to ask about his/her eligibility. If your students has been contacted by a Division 1 coach or representative already, you should ask what impact would "holding back" during the high school years would have on your student's eligibility, also. You SHOULD NOT ask local school officials or high school coaches about this. All answers concerning NCAA eligibility should come from NCAA representatives or from NCAA-affiliated coaches. We have been receiving NEW INFORMATION about potential issues in the past two days. We have been advised to direct all parents/guardians to the NCAA Customer Service for questions concerning potential D1 athletes who opt to "hold back" during their high school years. ☎️ 1-877-262-1492 - NCAA Customer Service

This message is for students who have submitted applications for the holdback year related to SB128 ONLY. If your student has hopes of competing at the Division 1 level after he/she graduates from high school, there is a strong possibility that staying back in school during their high school years COULD impact their eligibility at the college level. If your high school student-athlete has hopes of playing at the Division 1 level and your student plans to "hold back" next year, you should call the NCAA Customer Service line at 1-877-262-1492 to ask about his/her eligibility. If your students has been contacted by a Division 1 coach or representative already, you should ask what impact would "holding back" during the high school years would have on your student's eligibility, also. You SHOULD NOT ask local school officials or high school coaches about this. All answers concerning NCAA eligibility should come from NCAA representatives or from NCAA-affiliated coaches. We have been receiving NEW INFORMATION about potential issues in the past two days. We have been advised to direct all parents/guardians to the NCAA Customer Service for questions concerning potential D1 athletes who opt to "hold back" during their high school years. ☎️ 1-877-262-1492 - NCAA Customer Service

Reminder: IN-PERSON summer classes are being offered for Lawrence County students in K-12 grades.   This is an excellent opportunity to remediate or to accelerate students in preparation for the next grade level. Application:
https://forms.gle/uiSM9cqY6KXu6goN9
🗓Due May 5th