September 16, 2021 - COVID Isolation and Quarantine Chart for Lawrence County Schools
https://5il.co/z5jc

LC Hoops League is getting ready for basketball season. Is your child interested playing? If yes, check below:
https://lchoopsleague.net

September 15, 2021 - COVID Isolation and Quarantine Chart for Lawrence County Schools
https://5il.co/z3nt

September 14, 2021 - COVID Isolation and Quarantine Chart for Lawrence County Schools
https://5il.co/z137

September 13, 2021 - COVID Isolation and Quarantine Chart for Lawrence County Schools
https://5il.co/yus3

The latest chart includes the following information: *Student isolations by school and by grade *Student quarantines by school *Staff isolations and quarantines by school *State incidence map rating For more information, click below:
https://5il.co/ysn8
#AllinLC

Due to the high incidence rate for COVID-19 in our community, Lawrence County Schools will continue with mask wearing for all students, staff, and visitors in our schools. More information will be released next week. #AllinLC

We're thrilled to announce Lawrence County Schools' new app! Access sports scores, cafeteria menus, news updates, even emergency notifications. Download the app on Android:
http://bit.ly/2GywTQA
or iPhone:
https://apple.co/2GC64e6
.

If your child is QUARANTINED or ISOLATED due to COVID-19, he/she is expected to complete his/her assignments on Google Classroom DAILY, so they do not fall behind. Please contact your child's teacher, if any help is needed. #AllinLC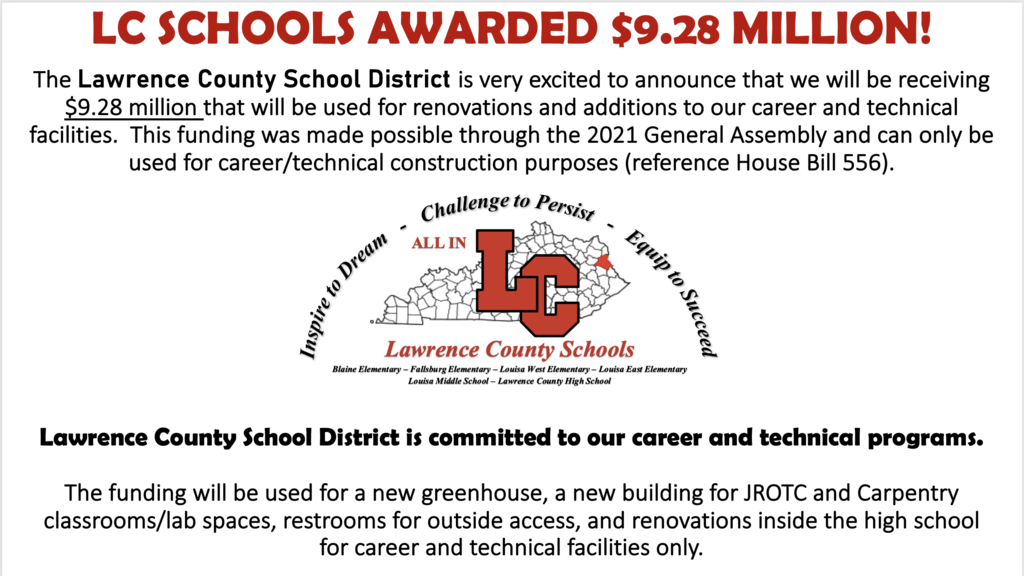 The infographic explains the isolation/quarantine rules that are being used by the LC Health Department. To test out of QUARANTINE: *Test on Day 5, and if negative, the student/staff member can return on Day 7. #KeepingYouInformed #AllinLC
https://5il.co/xr2f

The KY Supreme Court ruled against Governor Beshear's mask mandate, and he rescinded the executive order today. BUT... The Kentucky Board of Education regulation for a mask mandate is still "in effect." The regulation carries the weight of law. #KeepingYouInformed

For clarification: We are offering food services for those children that are not old enough to attend school or unable to attend for any other reason. It has been great to see our students in-class. We can't wait to see everyone again tomorrow! #AllinLC

🗓Beginning TUESDAY, August 17, 2021 The Lawrence County Food Service team will be offering meal pick-ups at Louisa Middle, Blaine, and Fallsburg Schools to any child who is 18 years old or under. ⏰Monday through Friday - 10:30 AM to 12:00 PM #AllinLC

We had lightning to strike a transformer at one of the electric poles near the high school. Everyone is safe, and no one is injured. Unfortunately, phones are not working at the Board office, and electricity is limited at the high school. AEP is on their way! ⚡️ #AllinLC

Here is a summary of our "Safe Return to In-person Instruction and Continuity of Services Plan 2021-2022." Masking, contact tracing, exclusionary criteria, and more...
https://5il.co/wxmw
#AllinLC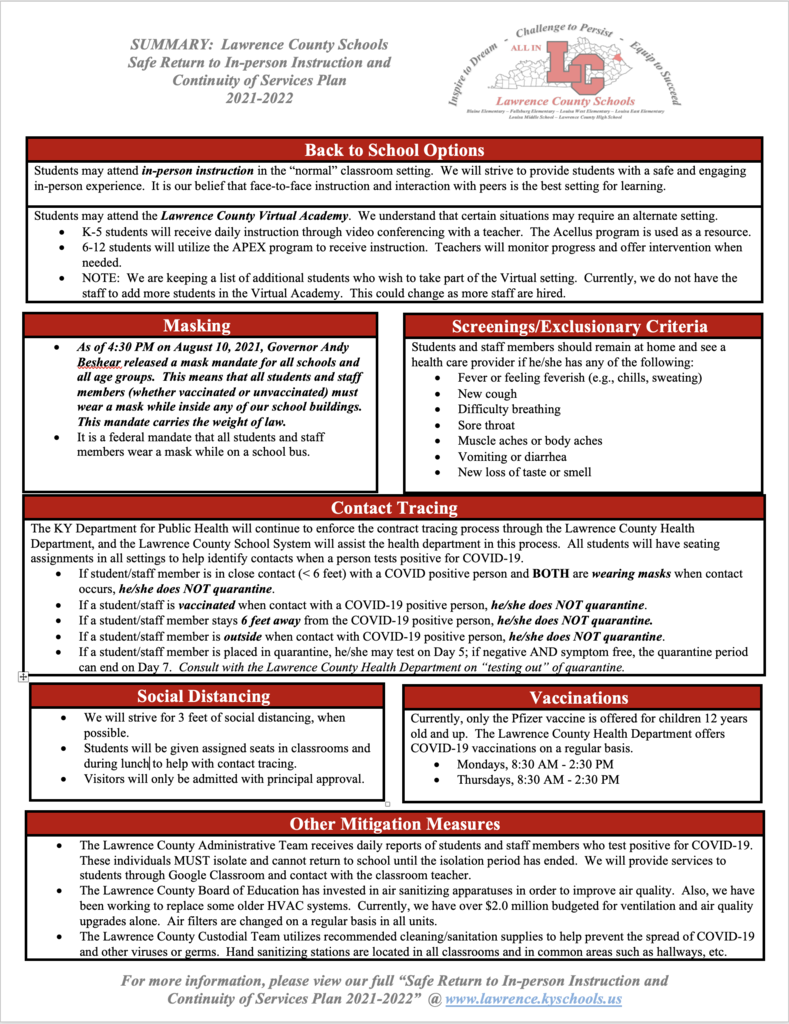 All K-12 students start tomorrow, August 11, 2021! 🚌 📚 💻 All Preschool students start on August 25, 2021. You have two weeks to register! Call your elementary school for more information. 🧸 🖍 Click the link below for more information...
https://5il.co/wwwa

August 11, 2021 is the first day of school for students in LC! WE are looking forward to seeing everyone! Also, we just received approval fo universal preschool (NO COST)! If you know a family that is looking for a preschool for their 4 year old, LC is the place!