LMS News Class 2022 The Louisa Middle School has started an exciting LMS school news class for the 2022 school year! Students not needing work on MAP testing subject material, had the option to choose elective classes this year. LMS Principal, Ms. Sammons is very optimistic about the news class and hopes to eventually add art, music, theater, and life skills classes to the roster of elective classes. Ms. Kelly Short, who regularly teaches math, is ecstatic about teaching the innovative class. In this news class, students are encouraged to take the lead role, while Ms. Short will help to mediate students through the material. She is encouraged by all the possibilities this class can offer to students. The students will be learning to utilize various types of technology, develop proper research practices and communication skills. Ethan Preece and Dakota Thornsberry discussed the class and topics they want to focus on during this class session. Ethan said, "I am excited about the class. We plan on doing a lot of news broadcasts. We can talk about sports activities and economics." Dakota said she was also very excited about the class. She added, "It is fun and interesting." The class may do weekly video broadcasts, sport highlights, various segments on a YouTube channel, Instagram posts, debates, weather, and community event updates. Be sure to stay tuned in and watch for the upcoming LMS News segments!
Ms. Tina Bevins: Family Resource & Youth Service Center Coordinator for BES!
58th District Championship Soccer Games! Good Luck LC Lady Dawgs & LC Bulldogs!!!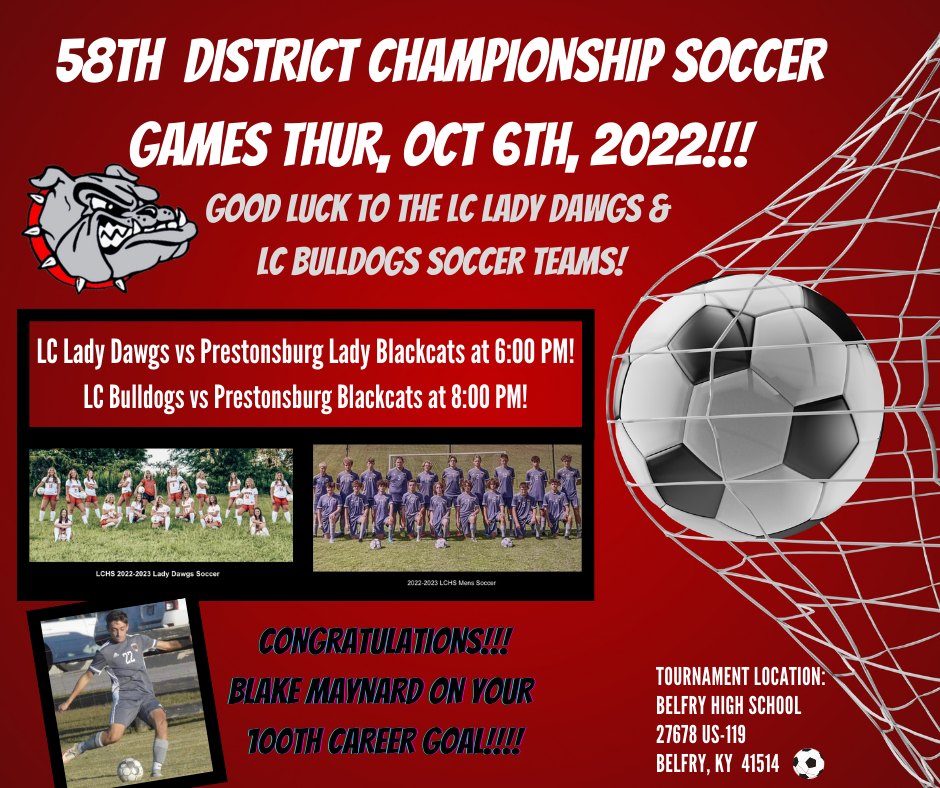 LC Lady Dawgs Softball Fieldhouse Facility 2022 The LC Lady Dawgs Softball team and coaching staff are thrilled that softball fieldhouse building has been given the green light to begin construction! The new facility will be a 50' x 100' building with a locker room, restrooms, concession room, hitting area, and equipment storage areas. The fieldhouse building will be positioned directly behind the current softball field dugout. Coach Kenny Horn helped to remove fencing, blacktop, and trees out of the work zone, so construction could begin as early as possible. CPR Construction, LLC from Grayson, KY will complete the construction of the facility, as the company turned in the most economical bid. CPR Construction completed prep work on the grounds. They added in safety fences and placed in erosion barriers before more land preparation begins on the work site. As many already know, the Lady Dawgs have been sharing the boy's baseball facilities for many years. The softball players had a great deal to say when they were asked how they feel about receiving this building for their team. Senior, Kensley Feltner commented, "It is exciting that there will be a building just for our team, and especially for the younger players." Senior, Allie Triplett, added, "My little sister plays and will have the opportunity to have her own locker room. She will have a place to practice hitting. We have always had to share the baseball building and we wouldn't get done with practice until 9:00 PM or 10:00PM sometimes. That makes it hard." As you can tell, although the older players will not be able to utilize the facilities themselves, they are excited for the younger players to have this new opportunity. Junior, Dani Crumb explained, "I am so excited to have our own place! Generations of teams will use it! I am so excited for our Coach! And I am so thankful for the people that worked to get it for us." Younger softball players including Grace Preece (sophomore), Taylor Blevins (freshman), Lainey Blevins (eighth grade), and Reagan Stepp (seventh grade) were all excited. They discussed how the new facility will open new and exciting opportunities for them. They all feel they will be able to have better workouts and practices, which will allow them to be better players, and ultimately a better team. LCHS Softball Head Coach Kenny Horn has been with the program for over 15 years, where he started coaching the junior varsity team. Coach Horn said, "I am so excited about this! I love working with these kids. I have always felt like our team has always had the best of the best! We have always had the best support, uniforms, equipment, and help whenever we need it with the spring break training trips. There is no other place like Lawrence County! I always say it is about the team's name of the front of the jersey and not the name on the back. We have great administrators, businesses, and residents supporting our team. I want to thank the LC Board Members for getting this done! All of Lawrence County should be proud of this!" LCHS Assistant Softball Coach, Sam Sparks added a statement, "The softball building will enable our softball program at all levels, it will help take us to the next step in being a championship program. We are grateful to the LC Board of Education and Superintendent, Dr. Robbie Fletcher for giving these student athletes another tool to help them achieve high levels." Bobby Preece, an Assistant Coach, has been with the LCHS Softball Team for 6+ years. He stated, "The new fieldhouse will be a game changer for the team. It will allow the athletes to get to the next level. They will be able to train better, go faster, and farther!" James and Stacy Jones are both Assistant Coaches. Mr. Jones discussed how the program has advanced through the years. He has watched it change from a slow-pitch to a fast-pitch program. He said, "The motto "All In" is the embodiment of this project. This is the vision of girls' sports, and they will benefit from a facility they deserve. This is truly a blessing for our community coming true!" Ms. Stacy Jones was a past LC softball athlete. She has witnessed first-hand the forward changes of 30 years that has given momentum to the LCHS softball program. Ms. Jones said, "It is a long time coming, and it is so great to see these athletes get something they deserve! To be able to get a new facility like this, it is amazing and appreciated." The construction for the new fieldhouse started on October 3, 2022. The poor weather conditions may have slowed down the construction progress a bit, but hopes are high the facility will be ready for use next year. Again, the LC Lady Dawg Softball players and coaches are deeply appreciative of all the community support! And would like to extend thanks to all the individuals that have put forth the time and work to ensure the development, construction, and future completion of this facility for the LC Lady Dawgs Softball Team!
LMS's First House Party held Sept 28, 2022! The Louisa Middle School hosted it first House Party on Wed, Sept 28th, 2022. It was a huge success! The LMS students were excited to hear who was ahead in points. In third place was the LISTO (white) house, second place was the KULEANA (red) house, and first place was the HESHIMA (black) house. Ms. Sammons encouraged students to continue to do positive, responsible actions to gain points for each of their houses. Next, there had been a challenge of a student competition to design a logo for each of the houses. The designs were submitted, and 3 winners were selected, one for each house logo. Amelia Cooper won the design for the KULEANA house, Kadyn Sams won the design for the LISTO house, and Libby Carlton won the design for the HESHIMA house. Congratulations to these talented winners! The gymnasium was electrified during the student race events. The students had three race events, where they competed to gain points for their teams. The games were all developed to ensure the teams communicated, developed teamwork skills, and of course had a great time. The teachers were wonderful to encourage and motivate their teams during all the events. It was a definite win for the LMS administrators, teachers, and staff! Till the next house party!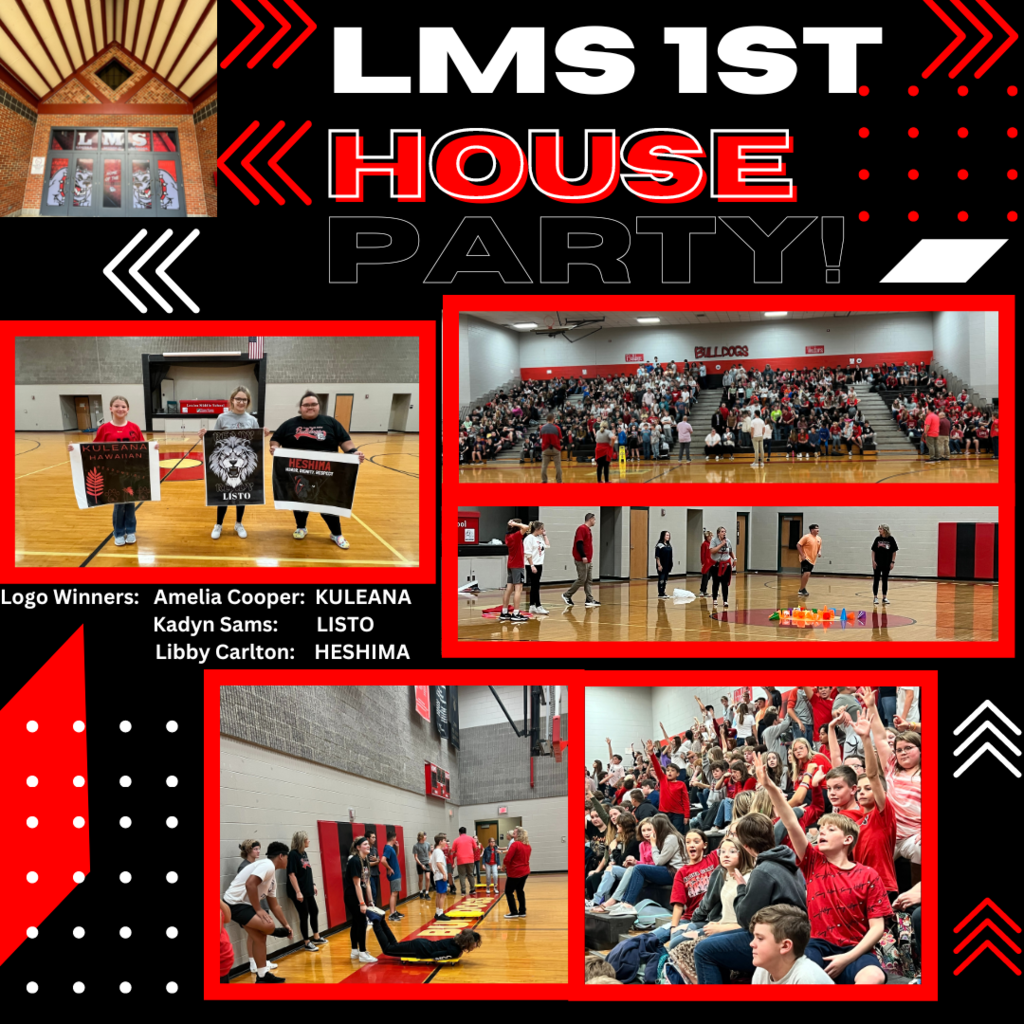 LCHS ACT PREP on Monday, Oct 10th, 2022! #AllinLC

Fall Break!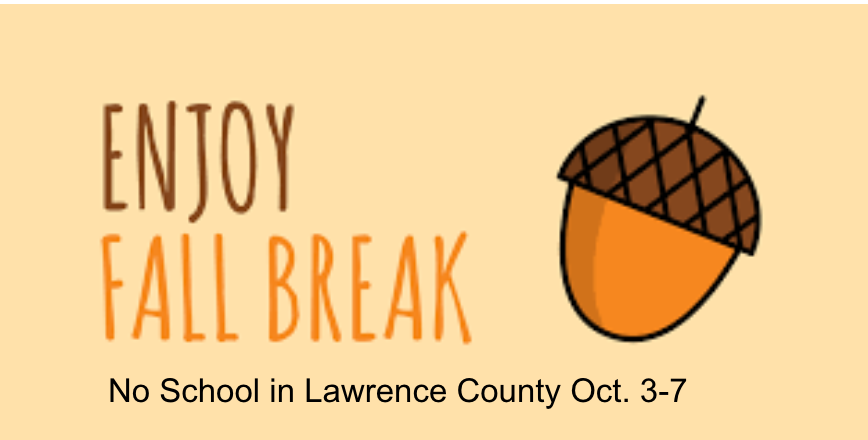 LCHS: ACT Preparation on Oct 10th, 2022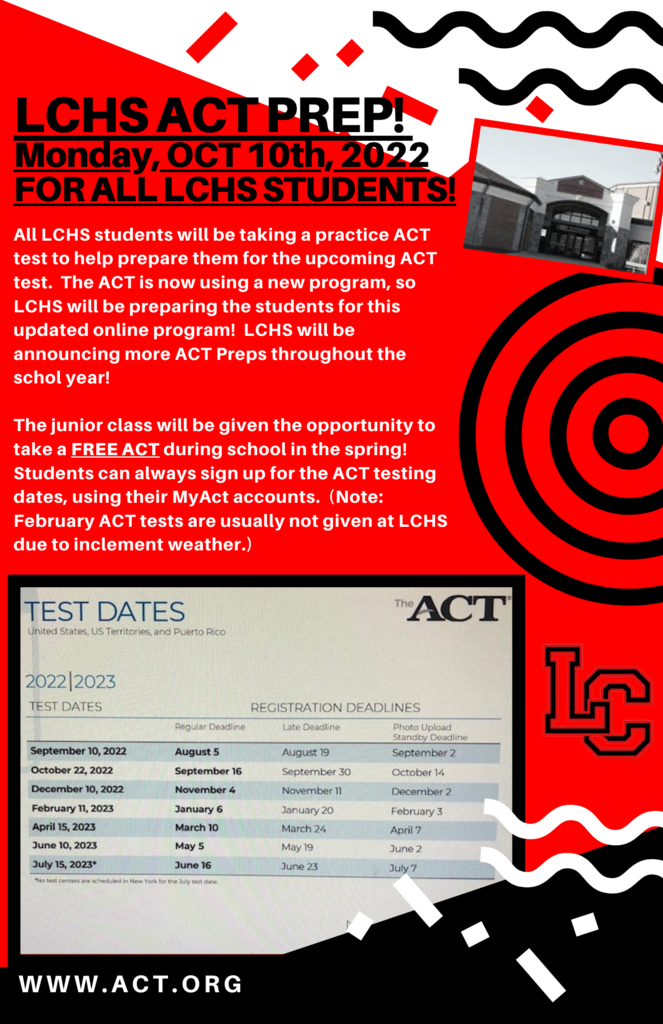 New Teachers & Staff with LC Elementary Schools Catrinna Porter is a Preschool Teacher at Blaine Elementary School. Ms. Porter also taught preschool at LWES in 2021 and has taught classes in KY private schools. She taught LBD classes in the state of Mississippi for several years. Ms. Porter has bachelor's degree in education. She has completed 21 hours toward her master's degree in counseling. Ms. Porter says, "I like preschool, every day is different, and every minute is fast paced, with high energy. It is just a happy place. You see everything for the first time again with the preschool students. There is always a lot of upbeat and happy energy in preschool." Lawanda Skaggs is an IDEA Instructional Assistant with Blaine Elementary School. Ms. Skaggs attended BES and graduated from LCHS. She has worked at Three Rivers Physical Therapy for several years. Her work with physical therapy included working with students within the LC School District. She has been a bus monitor for the past two years with BES. Ms. Skaggs says, "I love working with the students!" Crystal Salyer is a first-year Social Studies Teacher at Fallsburg Elementary/Middle School. Ms. Salyer has been working in the LC School District part-time for about 20 years. She states, "I started off working as a substitute teacher, then as a preschool/special education instructional assistant. This is my first-year teaching and I'm loving it! I'm also a 4H Livestock Club and Horse Club Coach." Deborah See is an IDEA Instructional Assistant at Fallsburg Elementary School. Ms. See was a Pharmacy Tech for four years and then worked as a stay-at-home mom with her children. She states, "I work in Mrs. Huff's special education class and I really enjoy it. The kids are the best and always puts a smile on my face!" Alisha Caudill is an Instructional Assistant at Louisa West Elementary School. Ms. Caudill floats between the energy packed preschool classes. The West is glad she joined their preschool team! Sarah Cordle is an instructional assistant with Louisa West Elementary School. Ms. Cordle says, "She loves working with the babies and helping ease them into the school life. Preschool is so much fun because we're learning something new every day." Ms. Cordle graduated from ACTC. She previously worked at Three Rivers Medical Center, Louisa, KY and St. Mary's Medical Center, Huntington, WV. She started working as a substitute teacher last year which helped her fall in love with teaching and being in a classroom. She says, "I love helping and being active in the school!" Crystal Henderson is an IDEA instructional assistant with Louisa West Elementary School. She is currently in the last semester to finish AA. She will pursue her bachelor's degree in early childhood education with special needs. Ms. Henderson adds, "I have had 7+ years of experience working with children and adults with special needs. It's my passion to help those in need. I enjoy just putting a smile on a face because we don't always know everyone's situation. I absolutely love my new position as an instructional assistant for those with special needs. I see the joy in these kids and to me that makes it all worth it." #AllinLC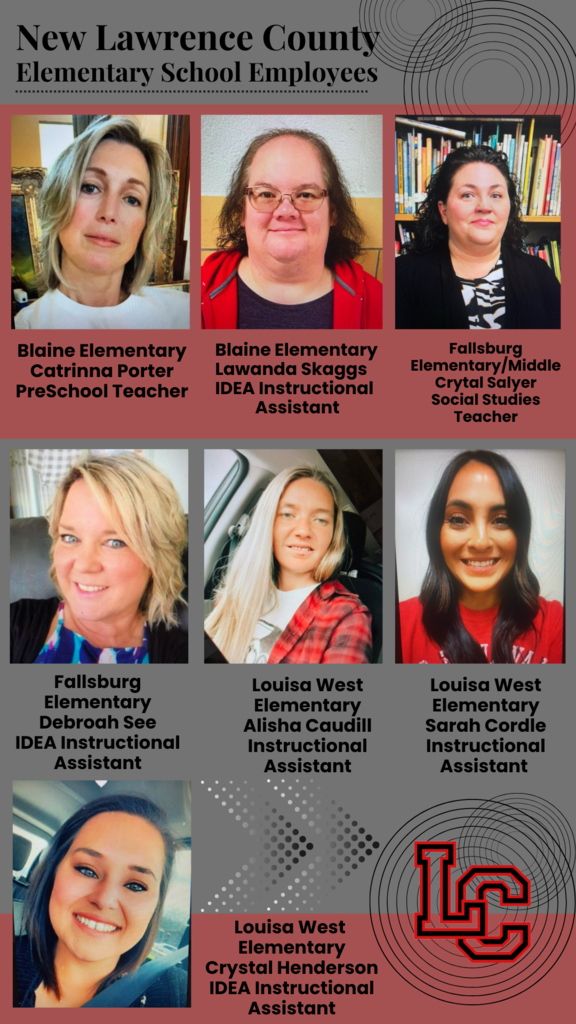 New LCHS Teachers & Staff! Ms. Linda Howard is a LBD teacher with LCHS. She currently resides in Johnson County. The last seven years she has worked in the mental health field, mainly with addiction. She is currently pursuing two components in the MAT program, Special Education along with a Social Studies degree. The deciding factor for a career change and decision to become a teacher, was seeing the outcome of those with a poor education. Ms. Howard states, "Many of my past clients were pushed through a school system, not learning to read or write. These basic life skills are needed to succeed in life, therefore the lack there of continues the generational poverty that seems to affect many Eastern Kentucky families. I will strive daily to help my students build the confidence they need to not only learn but inspire to become productive citizens." Ms. Linda Young and Ms. Melanie Zirkle are new cooks and bakers at the LCHS. We are excited they have joined the Lawrence County team! We appreciate all their work and dedication to our students at LCHS.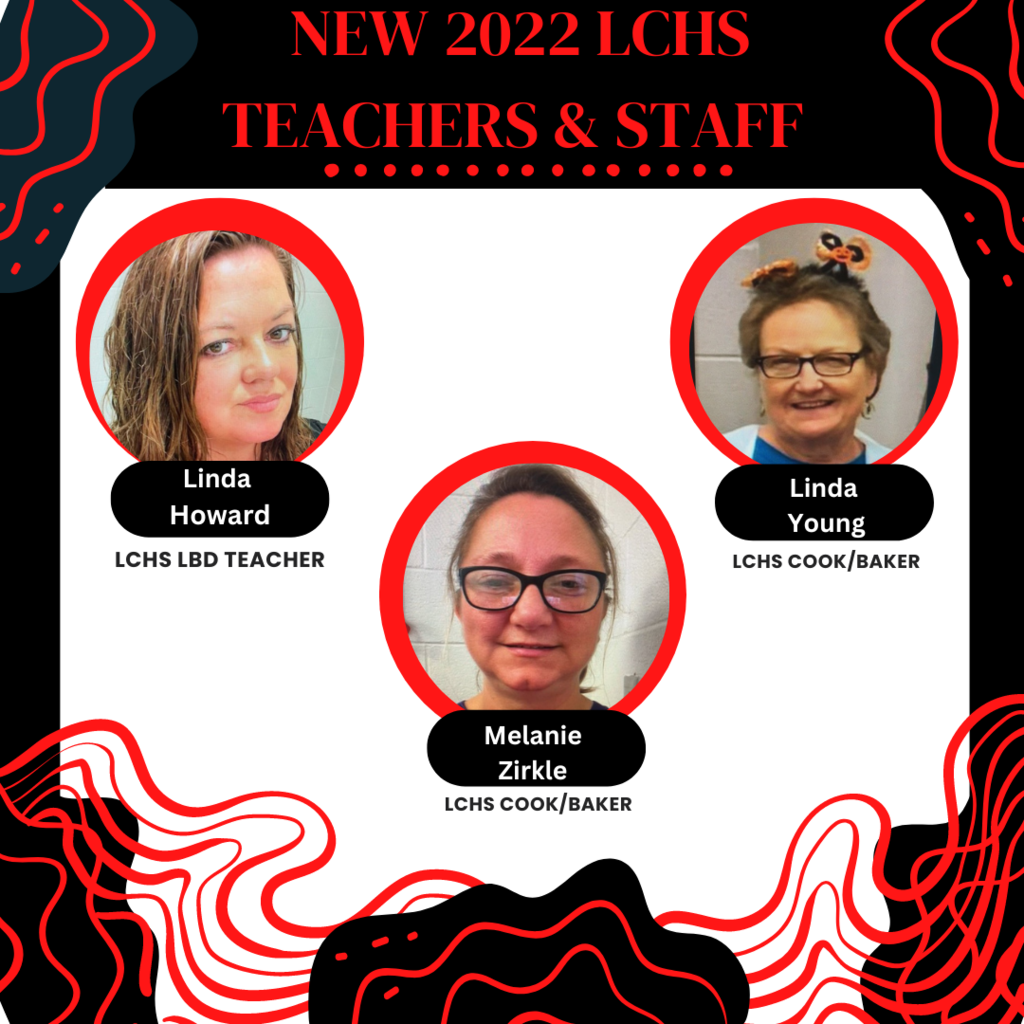 Girls & Boys District Soccer Tournament to be held at Belfry High School! #AllinLC @All_in_LC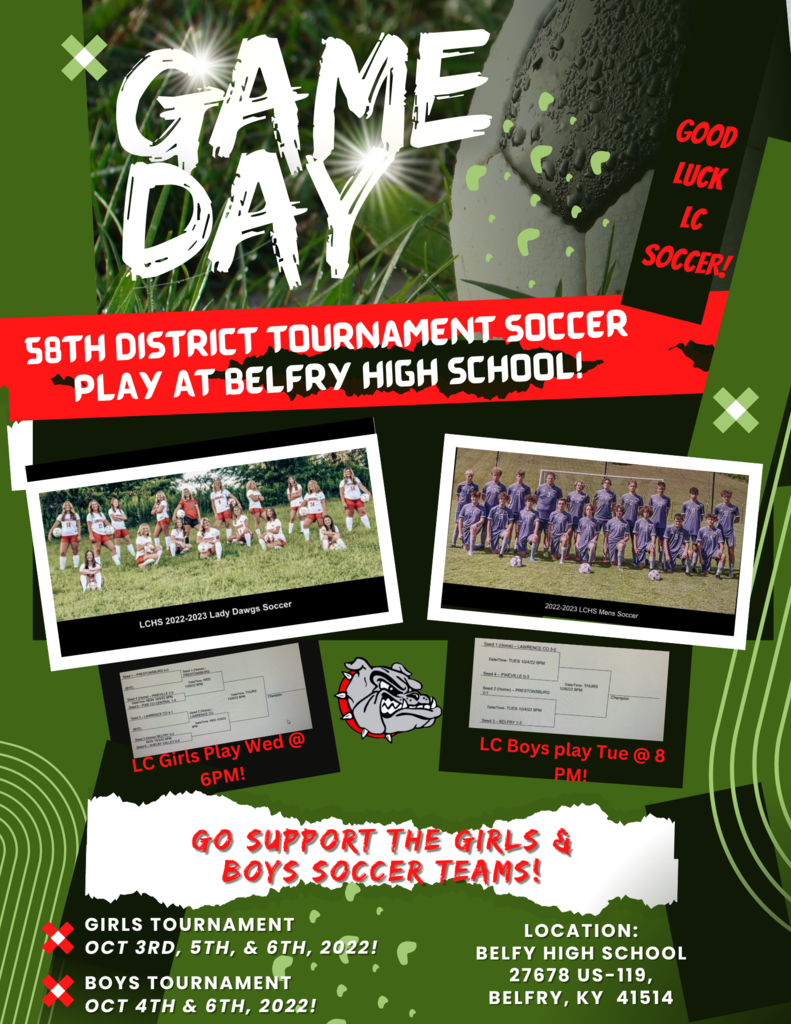 Autumn Fest in Blaine, KY to be held Oct 7-8, 2022!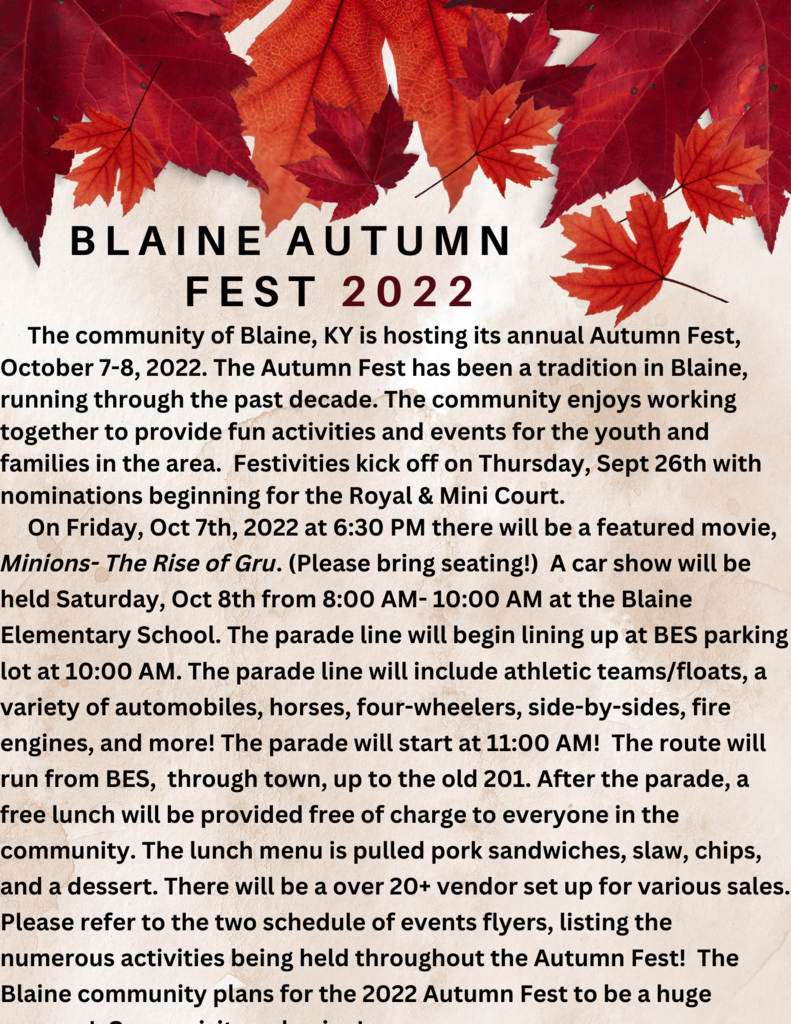 K4C Construction Career Fair at Shelbyville, KY, Sept 20th, 2022 The LCHS construction, heavy equipment, and welding classes had 75+ students attend the K4C Construction Career Fair held in Shelbyville, KY on September 20th, 2022. The K4C Career Fair is held over a two-day period at the Shelby County Fairgrounds. The event welcomes over 2,500 vocational and technical students throughout Kentucky. The LCHS students spent the day touring and talking to career vendors from various trade unions. There were auto manufacturers, various high wire and electrical companies, and water treatment plant professionals available to talk with students. Students had opportunities to run equipment, including excavators, backhoes, skid steers, and even a remote-control dozer with a trailer. They were also able to experience most forms of construction. These forms included masonry, excavation, road building, concrete walls, and bridges. It was definitely a great day for the LCHS students to explore, experience, and connect to the many career possibilities available throughout Kentucky and beyond.
Lawrence County Board of Education Special Meeting: Sept 28, 2022 The Lawrence County Board of Education held a special meeting and with a working budget work session on September 28, 2022, at 6:00 PM in the LCHS library. Board members Maddlene Roberts, Barbara Robinson, and Garnett Skaggs were present in-person, as Superintendent, Robbie Fletcher, Chairman, Heath Preston, and Jim See joined the meeting virtually. The next Regular Meeting will be held at Fallsburg Elementary School on October 17, 2022, at 6:00 PM. Blaine School employees, Ms. Julie Cooper, Librarian/Media Specialist and Ms. Stacy Reynolds, Art/Music/VPA gave a presentation on the creation of the Blaine News Network (BNN). Their presentation outlined their need for equipment for the newscasting program. The news program will cover sporting events, academic team meets, school and community regular news, individual student success, and provide broadcasts on a YouTube channel. The BES staff will also collaborate with Mr. Prince's LCHS news class for guidance on the new program. The group is requesting monetary support for new equipment to support the news class. Some of the new equipment includes a green screen, camera/tripod, wireless/wearable microphone, regular microphone, iPad and iPad pencil and safety case. Their goal is to encourage/teach students about the digital arts and digital journalism. The Lady Dawgs Softball building, and upgrades will soon be underway. The start day for beginning work is for Oct 3rd, 2022, weather permitting. Dr. Fletcher, Chair of the LSAC, discussed the charter school regulations. There are questions if it is constitutional, for local tax dollars to support charter schools in the state of Kentucky. Dr. Fletcher has also attended the KASS Summit, in Louisville, KY on September 28-29, 2022. The summit has discussed the legislation on kindergarten programs being funded for the full day and issues on teacher retention and pay. The Claims and Orders of the Treasurer were approved for student learning and support services. Some the costs included fencing for the school campus, dues for the KY Association for Academic Competition (KACC), and dues for the KY School Public Relations Association (KYSPRA). There were several items approved on the Consent Agenda. The dual credit Memorandum of Agreement (MOA) between Ashland Community & Technical College (ACTC) and Lawrence County Schools was approved. The Fallsburg Chaffin Property 5-year lease agreement; Oct 1, 2022- Sept 30, 2022, was approved. There were several out-of-state trip requests approved. The LCHS Baseball Spring Training Trip to Myrtle Beach, SC on April 1-6, 2023, was approved. The LWES K-1 student's trip to Noble Family Farms, Minford, OH on Oct 17, 2022, was approved. The BES request for monetary assistance for the support of the news program in the amount of $3,303.65 was approved. LCHS Counselor, Scott Johnson requested assistance with payment for dual credit fees for LCHS students, for both ACTC dual credit courses and UK Next Generation Scholar dual credit courses, was approved. The Blaine and Fallsburg Wastewater Treatment Plant modification, to reduce the monitoring form monthly to quarterly was approved. Ms. Brandi Vanhoose related financial information concerning the working budget for the 2022- 2023 fiscal year. Ms. Vanhoose stated, "It is evident that students and instruction are a priority in Lawrence County Schools." The categories of Instruction, Student Support Services, and Instructional Staff Support total 53% of the budget. Also, the budget has the Contingency set at 3.9%. The Fiscal Year 2022- 2023 Working Budget was approved. There was a motion to purchase three buses using ESSER funds. There will be a new 84 passenger bus, and two smaller passenger buses. The purchase of these buses will allow Lawrence County Schools to be back on schedule. The CTE Coordinator, Christy Moore was requesting permission to bid and purchase an anatomage table for the LCHS Career Technical Education program. The board approved for the bidding of the anatomage table, which will require 3 bids from separate vendors. All residents are always invited to attend the Lawrence County Board Meetings to become aware of the issues affecting our students and schools. The meetings may also be viewed virtually through the public viewing link. A copy of the most recent Lawrence County Board agendas & meetings can be found on the current Lawrence County District webpage at
www.lawrence.k12.ky.us
.
LC Schools would like to congratulate seven LCHS students on their success! Saibra Moore, Ivy Bowers, and Mia West are attending The Gatton Academy located at Western Kentucky University, Bowling Green, KY. Abigayle Caldwell, Casey Hovis, Dakota Murphy, and Hanah Whisenant are attending The Craft Academy located at Morehead State University, Morehead, KY. These academies both boast residential programs for students demonstrating excellence in science and mathematics. Congratulations to all! #AllinLC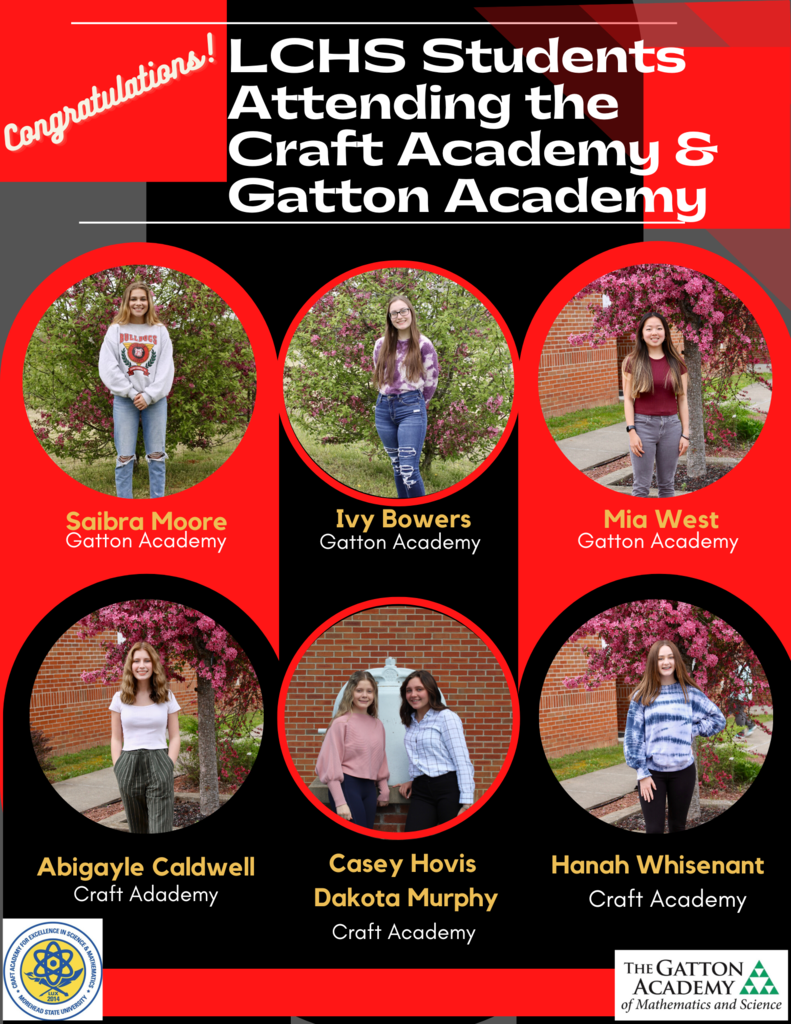 LEES has started a Compliment Journal Program to show gratitude and appreciation to their teachers and staff! #EAST #AllinLC
LCHS's Chemistry Class/Lab welcomes in Autumn!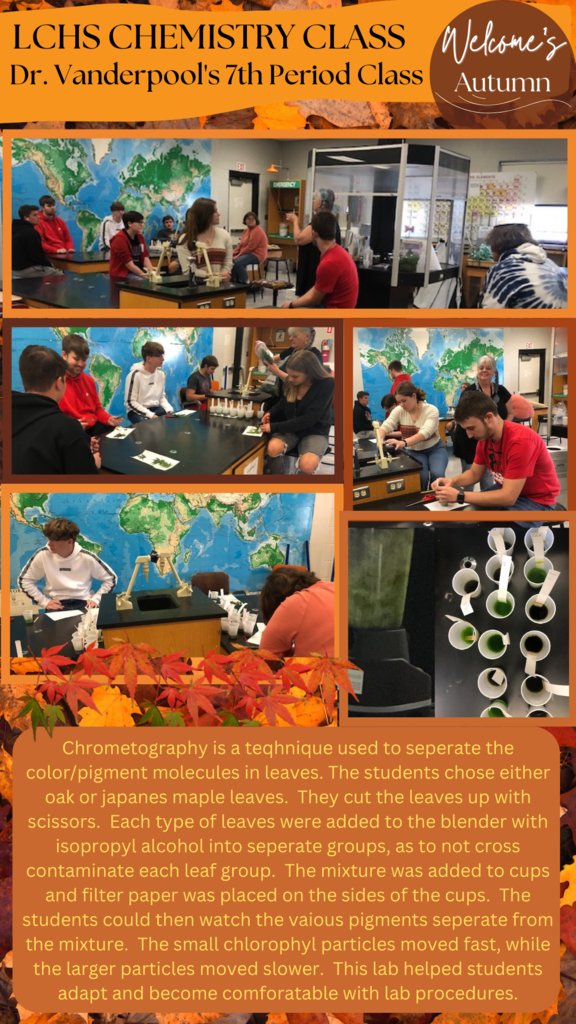 Fallsburg Elementary School held its Grandparents Day "Grand Dinner 2022" on Sept 20th, 2022!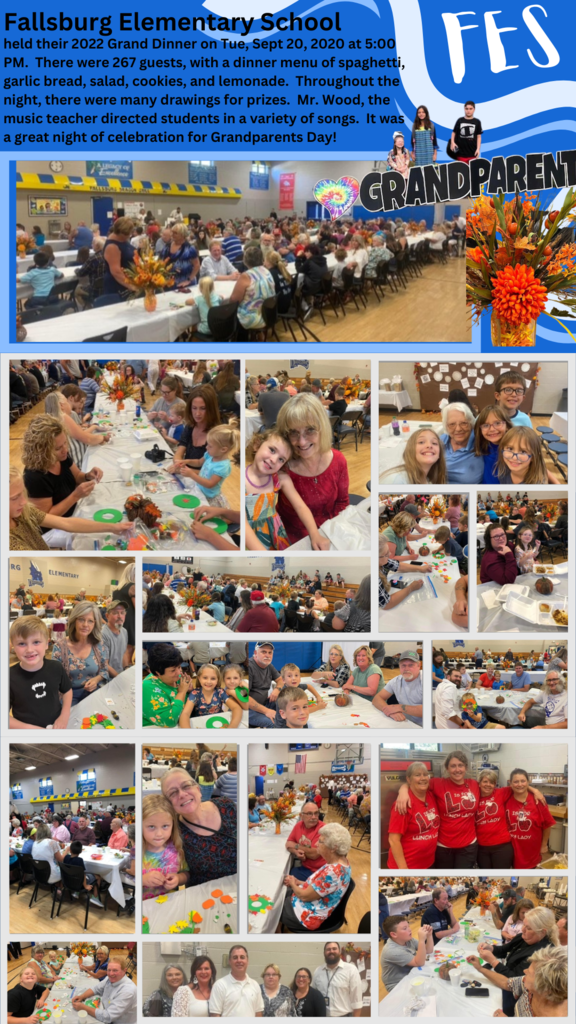 Louisa West Elementary School held their annual Grandparent's Day Ice Cream Social on Sept 20th, 2022! #AllinLC @All_in_LC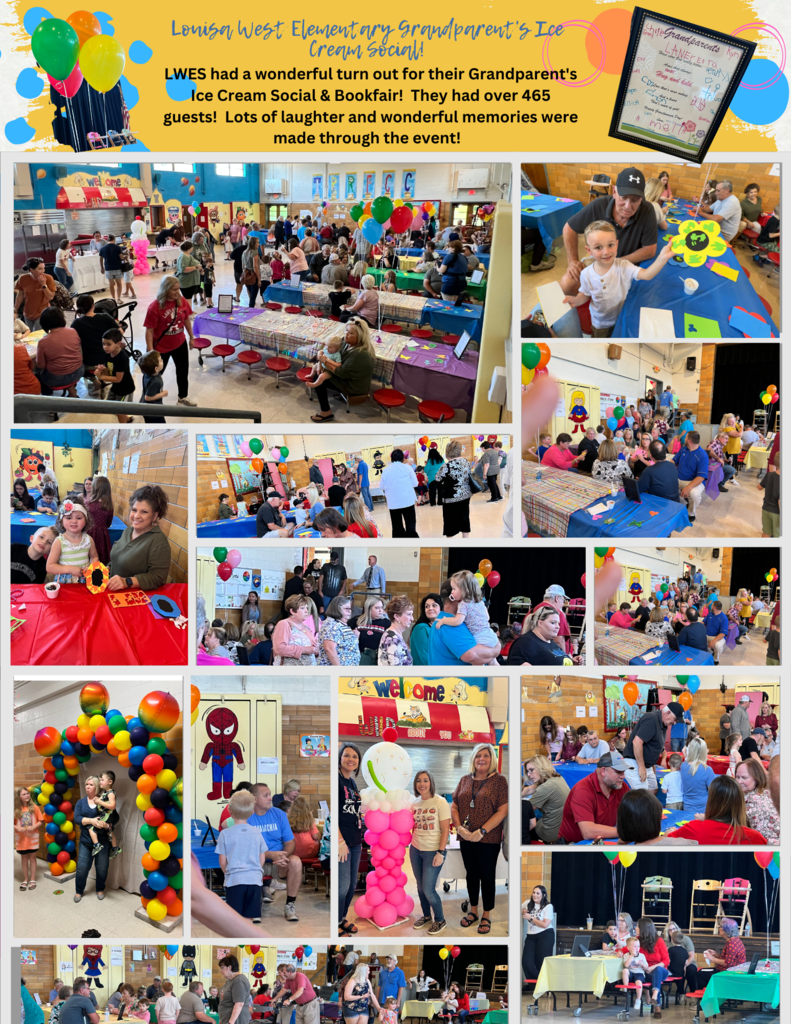 Congratulations Ms. Graves and Ms. Deerfield for going above and beyond at LEES! #EAST #AllinLC @All_in_LC