Attention 21-22 LCHS students: All schedule requests for the 21-22 school year need to be submitted in Infinite Campus by the end of the day Friday, May 7th. Students will need to use the Infinite Campus Student Portal to input the schedule requests.

Reminder: IN-PERSON summer classes are being offered for Lawrence County students in K-12 grades.   This is an excellent opportunity to remediate or to accelerate students in preparation for the next grade level. Application:
https://forms.gle/uiSM9cqY6KXu6goN9
🗓Due May 5th

Dairy boxes are available to be picked up at Louisa East Elementary for any families who may need one. They are free and contain milk, cheese, etc so they need to be picked up today between 12:30 and 2:00 today.

Attention LCHS Sophomores: All sophomores will be testing on Wednesday May 5th. At home students will enter the building through the main entrance and report to the gym until testing begins. At school students will report directly to first period. Students will take reading and math tests as well as a school survey. All students should be finished by 11:30am. Good Luck to all student KPREP testing this week!

Please complete only 1 parent engagement survey. Most surveys were sent home with your child's midterm. You may either complete it on paper and send back to your school OR you may click on the link and complete it online. Note-only one survey needs to be completed per household.
https://bit.ly/3gOsRWZ

LCHS is proud to announce Luke Parsley was selected as a member of the 2021 Roger Entrepreneurs Institute.

LCHS is proud to announce Trey Hall and Victoria Penix were selected to be 2021 Roger Scholars.

All LCHS school picture proofs and picture packages are ready to be picked up during school hours.

LCHS is proud to announce Jasmine Justice has been selected for the Governor's School for Entrepreneurs!

LCHS is proud to announce Shelby Borders and Luke Johnson were selected to be part of the Governor's Scholars Prpgram this summer!

Homecoming 2021 LCHS Dress-Up Days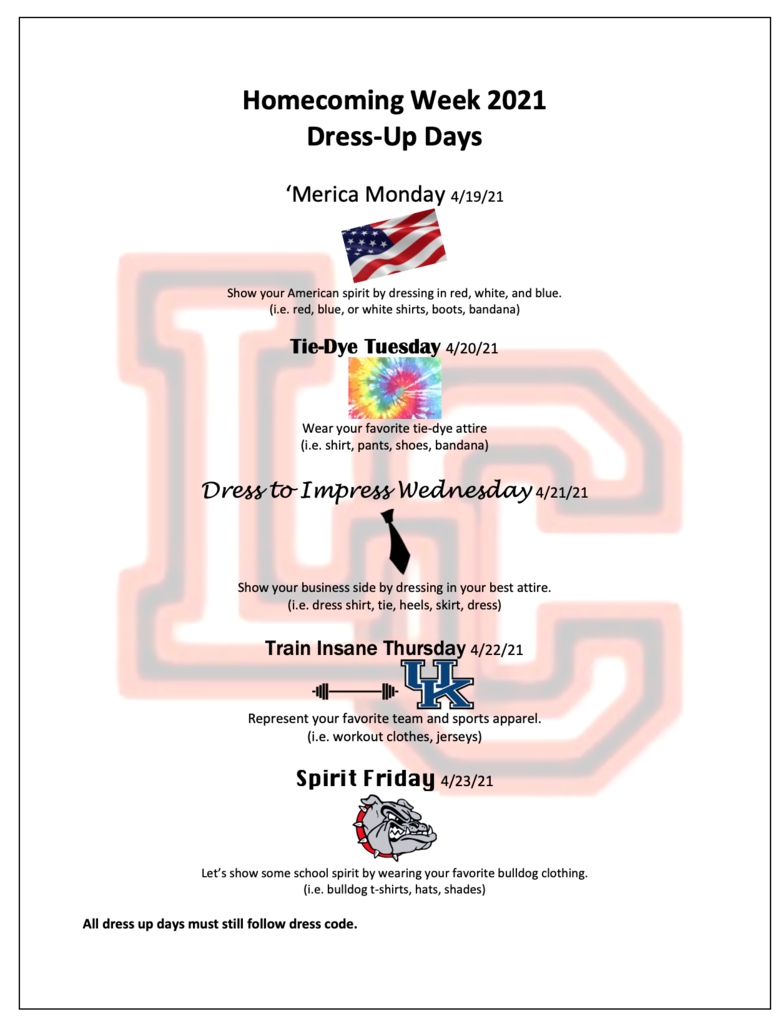 On April 13, 2021, ALL 10th graders will take the ACT test. This is a wonderful opportunity for 10th graders to become familiar with the test before taking the state-required Junior ACT test next school year. Any student who is currently enrolled as a 10th grade student in Lawrence County High School, whether they are on Option 1 or Option 2 may participate. 10th graders should expect a phone contact from the high school with more details as time is closer. Students coming to school to test on that day will be required to follow the Safe at School Protocol for Covid set forth by the KY Department for Health. Any 10th grade student who would like to practice in preparation for the ACT test may find the online resources provided at
https://www.act.org/content/act/en/products-and-services/the-act/test-preparation/free-act-test-prep.html
If you have any questions, you may contact Jennifer Dheel at Lawrence County High School 606-638-9676.


Attention LCHS Seniors Post-Secondary Week 🏫 March 29 - April 2 Both Option 1 and Option 2 Seniors will be able to attend sessions presented by both college and military representatives.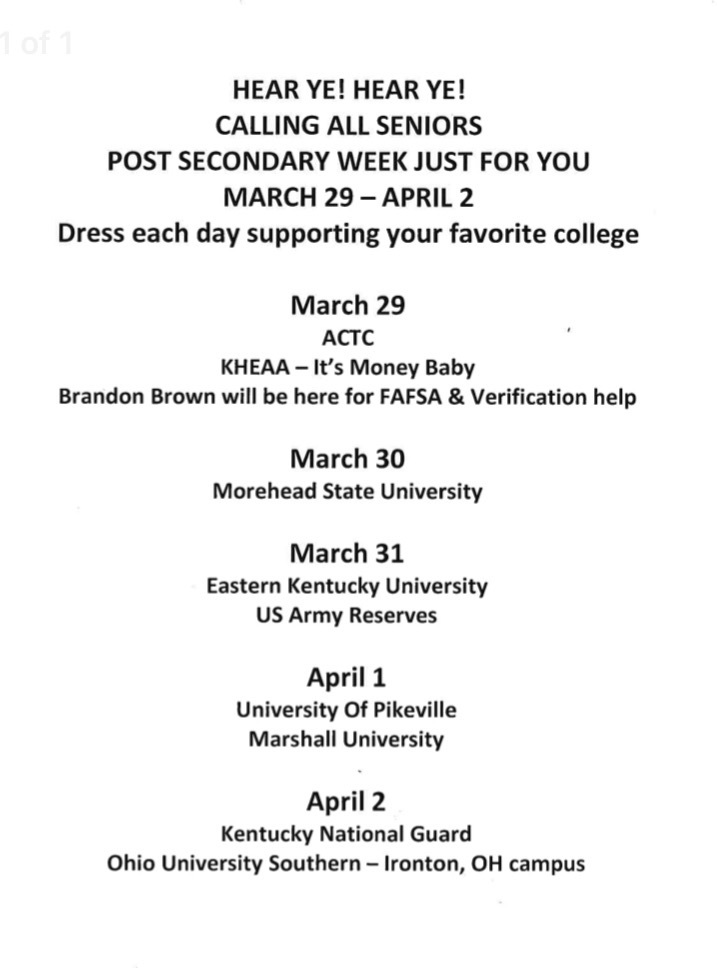 For the upcoming spring sports season LCHS will continue using GoFan for ticketing. There are 5 different "passes" that can be purchased for the entire regular season. ⚾️ JV/MS (only)BASEBALL pass: $20.00. This is for JV and MS baseball games only (NOT V) ⚾️🥎 Adult ALL spring sports: $45.00 This is good for ALL levels of baseball and ALL HS softball events ⚾️🥎 Student ALL spring sports pass: $25.00 This is good for ALL levels of baseball and ALL HS softball events ⚾️ Adult baseball season pass: $30.00 This is good for ALL levels of baseball (V and JV/MS) 🥎 Adult softball season pass: $30.00 This is good for all HS level softball events There is one time only "convenience fee" These passes can be purchased via the GoFan app or website and simply search "Lawrence County High School" 🐾 There will be no other ticket purchasing options other than GoFan 🐾 ALL single game tickets on GoFan will be $5.00

LCHS Picture Day will be March 19th. All in @School students pictures will be taken during the school day. All in @Home students pictures will be taken 3:30-5:00 in LCHS Library.

This message is for Lawrence County High School students ONLY. Tuesday March 9th ALL Juniors will be taking the ACT for state testing. Due to ACT restrictions ONLY 11th grade students will report in person March 9th. All 9th, 10th, and 12th grade students will be virtual March 9th.

The Class of 2021 has a special surprise next week when they return to in person school🐾🎓 Thank you Mrs Cecil!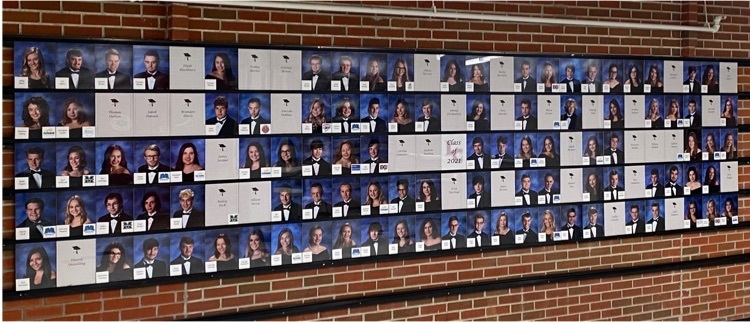 The Class of 2021 has a special surprise next week when they return to in person school🐾🎓 Thank you Mrs Cecil!